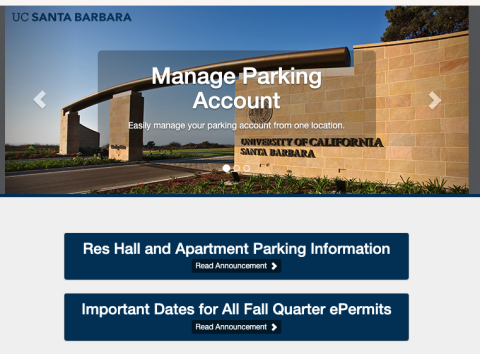 Requests for "H" Residence Hall and Apartment ePermits will be accepted beginning Monday, August 22. A very limited number of parking spaces are available for residential students. Parking is not guaranteed and some lots may be located up to one mile away from your residence. To request an ePermit, follow the steps below:
Log in to TPS ePermit Portal by clicking on the Student & Guest Login button: tps.ucsb.edu/epermits


On the bottom of the main page, click on the ePermit Approval Request/TAP Application button


A window will pop-up, select For Parking ePermit requests, click here


Select Res. Hall or Apartment Request from the drop down menu. Review and agree to the three statements listed and click Next >>.


Enter the residence hall or apartment location you will be moving into in the text box. Upload a copy of your current vehicle registration. Click Submit.


Your permit request will be reviewed and you will receive a response within 3 business days. Note: Permit requests that are submitted without vehicle registration information will not be considered.