Through the eyes of the media, follow TAP and other campus organizations as they announce innovative programs, gain notice, garner awards, and generate action.
February 2014 • TPS announces unlimited electric vehicle (EV) battery charging with the prepaid UCSB-EV power permit. Learn how the permit can make your life easier here.
EV charging stations have been a dynamic presence on the UCSB campus since 2012. We've compiled operating instructions for the stations on this webpage.

Recargo, Inc. develops mobile applications for drivers of the next generation of connected automobiles. The company's website features a Google map that shows the locations of EV charging sites in the Santa Barbara area.
Santa Barbara's Community Environmental Council takes a leading role in advancing energy independence in the region. Visit the Transportation Initiatives page for more information.
February 2016 • League of American Bicyclists reaffirms gold level recognition to UCSB as a Bicycle Friendly Business (BFB).
---
January 2016 • Good News – Higher Contribution Limits for Mass Transit Users!
A provision included in the Protecting Americans from Tax Hikes Act of 2015 (The PATH Act) establishes permanent parity between the monthly benefit limits for mass transit and parking expenses for commuters.
For the past two years, the monthly maximum that an employee could set aside on a pre-tax basis for work-related mass transit expenses was much lower than for parking reimbursement (Only $130 for transit vs. $250 for parking in 2015).
Now the maximum benefit amount that can be received is equal for parking or transit due to Public Law Number 114-113 as of Dec 18th, 2015. The maximum benefit amount will be indexed annually.
---
In 2016, an employee may set aside up to $255 for either type of commuter expense.
UCSB Payroll Services will soon change 2016 pre-tax mass transit payroll deduction limits, so you may pay less in payroll taxes.
---
November 2015 • The UCSB Current, Striking Bicycle Gold: UCSB named a Gold-Level Bike Friendly University (BFU) by the League of American Bicyclists
August & September 2014 • "There's just something about riding a bike on campus," says UCSB Director of Government Relations Kirsten Deshler. At $40 a pop, she and 159 other lucky staff members cashed in at Gaucho U's abandoned bicycle sales. The media reports:
---
October 2014 • Fifty abandoned bicycles were refurbished by dedicated workers at the A.S. Bike Shop, and given away to UCSB's Guardian Scholars. The project combined resources from UCSB Parking & Transportation Services, the campus police student patrol Community Service Organization, and the A.S. Bike Shop. Way to go, Scholars! The media reports:
---
How the University Rolls • October 8, 2013
Today's student life on bicycle, as reported by the Santa Barbara Independent.
---
September 2013 • Sierra Club ranks UCSB #10 out of 162 rated schools for its sustainability practices and eco-friendly ways. We have the reports here:
Among the "cool" categories, we find UCSB scores significantly in energy1 (1/162), transportation2 (4/162), planning3 (15/162), and food4 (18/162).
1 Reducing energy consumption through conservation and efficiency, switching to cleaner and renewable sources of energy.
2 Moving toward sustainable transportation systems.
3 Dedicating resources to sustainability coordination, incorporating sustainability into primary campus plans.
4 Using dining service food purchases to support local economies; encourage safe, environmentally-friendly farming methods; help alleviate poverty for farmers.
---
Not Your Father's Carpool • Summer 2013
Real-time Ridesharing has arrived! Santa Barbara Seasons provides insider accounts on new ways to Rideshare. Using SmartRide's phone app, car owners and riders can create a profile and log in when they want to offer a ride or catch one. An explosion of tools and services means more flexibility and control for the user.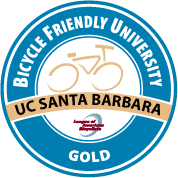 ​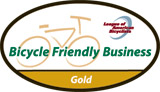 ​
Winter 2010 • The League of American Bicyclists announces the selection of the University of California, Santa Barbara as a Bicycle Friendly Business (BFB) Gold Award winner.