UCSB Clean Air Express service was discontinued in January 2022 due to lack of ridership.
Clean Air Express operates commuter routes (WEEKDAYS only) from Santa Maria, Lompoc and Buellton to Goleta. Please see below to learn how our commuters continue to use the Clean Air Express bus on their commute to UC Santa Barbara.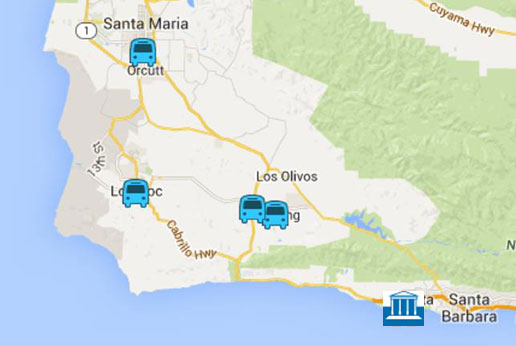 Even though the Clean Air Express bus no longer has direct services to UC Santa Barbara on Monday through Friday, there are THREE daily southbound trips arriving at on Goleta and THREE daily northbound trips departing Goleta. Those who want to ride to UCSB may bring a bicycle on or under the CAE bus and ride between Los Carneros near Hollister. Others ride the CAE bus to the Hollister & Pacific Oaks bus stop and transfer to the SBMTD Line 28 at the Santa Felicia & Marketplace bus stop. The SBMTD Line 28 is complimentary for UCSB students and UCSB employees with a current UCSB ID. Students who have paid their quarterly registration fees may ride on any SBMTD bus by tapping their student ID on the farebox. The SBMTD Line 11, Line 24X, and Line 27 are other routes to consider for a link to UCSB main campus. Those not paying registration fees as UCSB need to pay for the use of SBMTD. On the way home ride the SBMTD and transfer to the CAE bus at Hollister at Village Way.
The easiest/fastest way to sort through SBMTD options is with Google Transit. This service can assist with planning the SBMTD section of the trip between the stops near Costco and UCSB main campus. Google Transit lets you put in your desired departure time and provides walking directions, as needed.
Santa Maria and Buellton to Goleta CAE Schedule
All posted times are subject to variables such as driver availability, traffic and road conditions.
Clean Air Express sells 10-ride and monthly passes, and accepts single-trip cash fares. See Clean Air Express Passes for details.
Cost-Saving Payment Options
Faculty and staff who are employed at least 45% of time at UCSB, at least four months into the future, may choose to purchase monthly passes through pre-tax payroll deduction.* Enrollees in the payroll deduction program who are not owners of a UCSB parking permit may qualify for an additional savings of $21 per month on bus fare. To enroll in this latter program, download and complete the University of California Pretax Transportation Deduction DocuSign form. The form must be received by TAP at least ONE month before you wish to begin pre-tax payroll deduction.
*Under IRS Section 132a qualified transportation expenses include payments for the use of mass transportation and vanpool. The maximum pre-tax payroll deduction is $280 per calendar month for the 2022 tax year.
Payroll Deduction Cancellation Policy
We regret that we cannot refund automatic payroll deduction once a bus pass order has been submitted to Clean Air Express. If you wish to cancel automatic payroll deduction, send TAP an email no later than the 1st of the month PRIOR to the month for which cancellation is desired. For example, if you wish to cancel enrollment at the end of May, notify us by email no later than APRIL 1.
Clean Air Express buses have FREE wireless web access. To connect, simply join the "Free Clean Air Express Internet" network in whichever way you normally connect to a wireless network on your laptop or web-enabled phone.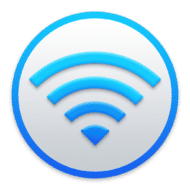 ​