New Train Service from Ventura County to Santa Barbara County
Most commuters to UCSB are scheduled to arrive at the Goleta train station between 7:00am to 7:15am and depart Goleta at 4:25pm.
The Surfliner also has a later train that departs Goleta at 6:48pm.
Southbound (PM) Train# 796
• Goleta 6:48pm
• Santa Barbara 6:59pm
• Carpinteria 7:18pm
• Ventura 7:40pm
• Oxnard 7:54pm
• Camarillo N/A
• Moorpark N/A
• Simi Valley 8:39pm
The Surfliner train pass also works on the Coastal Express bus that serves Oxnard/Ventura and UCSB. This provides the flexibility of riding the Coastal Express one way and riding the Surfliner train in the other direction. There is a 10-minute walk (3 minutes by bicycle) between the Ventura train station and the Coastal Express bus stops at Santa Clara and Oak.
Santa Clara and Oak Google Map
If you want to sign up for Surfliner pre-tax payroll deduction please fill out this payroll deduction form and fax to (805) 893-4570 or scan and email to: TAP@tps.ucsb.edu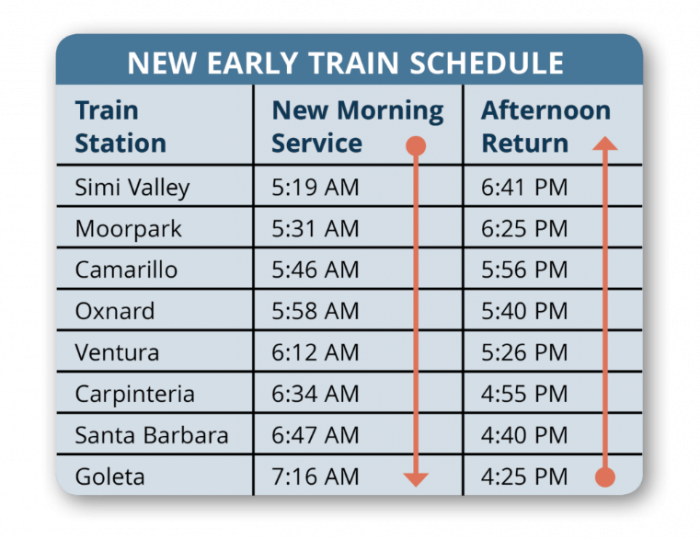 ​
Transportation between the Goleta Train Station and UCSB by Surfliner Shuttle Vanpool or SBMTD Bus
Surfliner Shuttle Vanpool
Vanpool transportation between the Goleta Train Station and UCSB is $35 pre-tax per month or $1.50 per direction with a Surfliner Shuttle Standby Rider Voucher sold in advance at the Parking Services Sales Office. The Parking Services Sales office is open 7:30am - 5:00pm Monday through Friday (exclusive of University Administrative Holidays).
Shuttle Arrive at UCSB typically 7:15am - 7:30am (based upon train's actual arrival time)
Shuttle Depart from UCSB 4:05pm to make the 4:25pm Surfliner departure
To learn more about the availability of the Surfliner shuttle vanpool between the Goleta Train Station and UCSB please contact TAP@tps.ucsb.edu (805) 893-5475.
Local Bus (SBMTD)
SBMTD provides complimentary transportation as part of your Surfliner fare...Please present a valid Surfliner ticket or Surfliner train pass to the SBMTD bus driver when boarding the bus.
SBMTD has created a website to describe the latest details on their bus service between the Goleta Train Station and additional information is available below.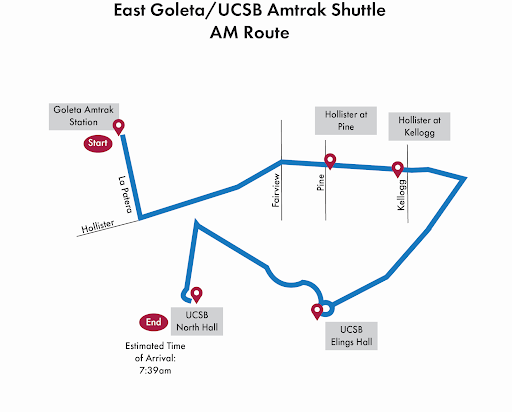 ​
The departure time from the UCSB North Hall bus loop is now 4:00pm Monday - Friday.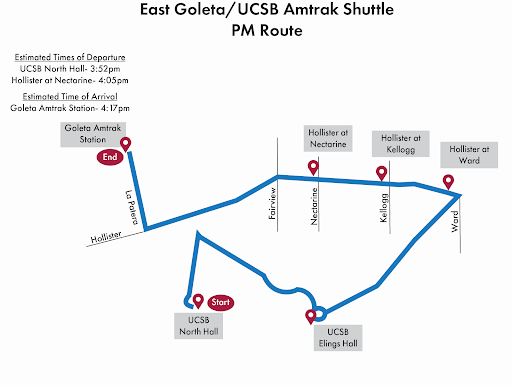 ​
Midday departure
Connecting to the 12:35pm train is more complicated. SBMTD does not have last-mile service at that time, but there is a line 11 that turns into a 6 that could get the rider to Hollister and La Patera, and then they could walk a few blocks towards the mountains to the Goleta train station. Best to put origin and destination into Google Maps and select transit as your mode to see the transit directions to select what bus time works best.
In the evening to catch the 6:59pm train from the Santa Barbara train station
Take Line 15x from the UCSB North Hall Bus Loop at 5:54pm (Monday - Friday), arrives SBCC time point at 6:33pm the next stop is down the hill at Castillo and Montecito and from there it is a short walk to the Santa Barbara train station.
The SBMTD shuttle between the Goleta Train Station and UCSB along with all other SBMTD buses and the VCTC Coastal Express bus are all complimentary when you show your valid Surfliner train ticket/pass.