Santa Barbara's bicycle-friendly climate and network of bicycle routes makes commuting by bicycle a viable alternative almost year-round. Over 10,000 people bicycle-commute between their home and UCSB on a daily basis.
Electric Bicycle Discounts for those Employed by UC Santa Barbara
Invest in an Electric Pedal Assist Bicycle to get fresh air commute at up to 28 miles per hour and ride up hills without breaking a sweat.
Also check out the EZBike Project that enables multi-day loans of electric bicycles at no cost, so you may try before you buy.
To improve bicycle security, the Transportation Alternatives Program (TAP) offers UCSB students, faculty and staff the opportunity to rent a bicycle locker in one of seven convenient campus locations. To qualify for a locker, you must:
Live more than two miles from campus
NOT own a UCSB parking permit (Night & Weekend permits excepted)
Use a bicycle as your primary mode of physically commuting between home and UCSB at least three days per week
NOT just for Summer Bicycle Storage. Summer Bicycle Storage can be arranged for a fee through the UCSB Police CSO office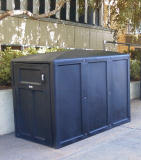 The diagram shows the exterior dimensions of a bike locker and the paired wedge-shaped interior.
A bicycle locker rental costs $59 per year, subject to availability. The rental fee is slightly reduced for those who sign up to begin in Spring or Summer quarter.
Here is a link to our Bicycle locker DocuSign form
After signing electronically we will assign a location based on the priority you have assigned and our available supply of bicycle locker space.
After you have been notified of your bicycle locker assignment, you may then visit the Parking Sales Office on the North side of Parking Lot 30 to pay your locker fees and collect your locker key.
If we cannot fill your request, you will be notified
Click to view the Transportation Alternatives Bicycle Locker Map. The map shows you where to find campus bike paths and bike services — bicycle lockers, self-service tools and air pumps and the Associated Student Bicycle Shop

Showers and Personal Clothes Lockers
Faculty and staff who commute by bike may wish to take advantage of the shower and locker facilities on campus. Towel service is provided with a locker rental. Click here to learn more.
Bicycling in Santa Barbara County
Free Bicycle Maps of the Campus and the County Online
UCSB bicycle map that shows parking, tool and pump locations can be seen here
UCSB bicycle map that includes bicycle locker locations can be seen here.
View and print single-page portions of the Santa Barbara County Bike Map on the Traffic Solutions website. The Santa Barbara County Bike Map shows you area bike lanes, bike paths, riding tips, and routes.
Google Maps Provides a Bicycle Layer
Visit https://www.google.com/maps or open Google Maps App on your smartphone.
Get directions then indicate you plan to travel by bicycle icon to see the suggested bicycle routes from origin to destination.
Click here to apply for TAP membership. All applicants are subject to verification of residence and University status.