Prepaid Unlimited EV Battery Charging - Pilot Program
Drive your vehicle up to one of our electric vehicle (EV) charging stations and enjoy the convenience of pre-paid, unlimited charging time for the single assigned vehicle only. The UCSB-EV Power permit covers the cost of power only and you will still need a valid parking permit to park on the UCSB campus.
Please be advised that the UCSB EV Power Permit is a pilot program that is subject to change or cancellation with 30-day notice.
EV Charging Instructions are here
If you have an "A", "B" annual permit and a plug-in vehicle you are pre-qualified for the UCSB-EV permit.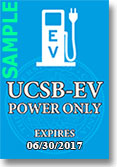 Apply online or visit us in person at the Parking Services Sales Office in Parking Lot 30 across the street from Harder Stadium on Stadium Rd.
The EV power permit expires on June 30 of odd-numbered years.
Price and Payment Options
There are two options for charging plug-in electric vehicles on campus (ChargePoint or Trickle-Charge)
ChargePoint
ChargePoint Charging Stations provide up to up to 6.6kW/h in Lots 10, 18, 22 and 60 require a valid parking permit for the parking lot and payment for power through ChargePoint at the rate of 20 cents per kilowatt (subject to change as power costs fluctuate).
Here is a video on the How to charge video from ChargePoint.
Trickle Charge and EV Power Permits
Trickle Charge provides up to 1.9kW/h and requires an EV Power Permit. EV Power Permits can be purchased in 4 hour increments or long-term. Long-term EV power permits allow unlimited trickle-charging of the one vehicle specifically linked to the Long-Term EV power permit at our trickle-charge Level 2 (240V 8A) spaces as listed below on the right-side column
EVSE AT UC SANTA BARBARA
Number and Type of Ports in Each Parking Lot
Lot

Level 2 ChargePoint up to 6.6kW/h Pay 20 cents per kWh through ChargePoint, plus a valid parking permit

Level 2 Trickle Charge up to 1.9kW/h Pay for power through a parking permit dispenser or a long-term EV Power permit, plus a valid parking permit

1

19 x EV-Available

10
8 x EV-Only

4 x EV-Only on Entry level & EV-Available x 11 on 3rd floor northeast corner and x 12 on 4th floor northeast corner

18

8 x EV-Only

9 x EV-Only
22
4 x EV-Only

11 x EV-Only on level just underneath the Ocean Rd. entrance to 22 Parking

50

2 x EV-Only - bottom level southeast corner

59

4 x EV Only $2 per hour additional fee for any EV connected to ChargePoint longer than 5 hours

60

4 x EV-Only and the circuits are 4kW/h shared so if two vehicles are charging at the same time they each share the available power which slows the charge-speed.

Lot 60 has a maximum EV parking duration of 10 hours while actively charging.
The cost of an UCSB-EV power permit is over and above the price to park at UCSB and corresponds to the capacity of the vehicle's battery.
Trickle charge rates are $1 for each 4 hour increments payable at the permit pay station on the first floor of parking structure 10 or at the long-term rates. Below you will find examples of some common plug-in vehicle makes and models. Their rated usable battery capacities relates their corresponding long-term EV power permit fees at the non-ChargePoint trickle-charge locations only.
EV POWER PERMIT - PILOT PROGRAM*
VEHICLE

Cost for Power, Per Month, effective July 1, 2019 for Level 2 Trickle-Charge Only - Not ChargePoint

Audi A3 Sportback E-Tron
$15
BMW 330e
$15
BMW 530e
$15
BMW 740e
$15
BMW 745e
$15
BMW i8
$15
BMW X3 30e
$15
BMW X5 40e
$15
Ford CMAX Energi
$15
Ford Fusion Energi
$15
Honda Accord Plug In Hybrid
$15
Hyundai Ioniq Plug-In Hybrid
$15
Hyundai Sonata Plug-In Hybrid
$15
Kia Niro Plug-In Hybrid
$15
Kia Optima Plug-In Hybrid
$15
Mercedes C350e
$15
Mercedes GLE550e
$15
Mercedes S550e
$15
Mini Cooper S E Countryman ALL4
$15
Mitsubishi Outlander Plug-In Hybrid
$15
Porsche 918 Spyder
$15
Porsche Cayenne S E-Hybrid
$15
Porsche Panamera S E-Hybrid
$15
Subaru Crosstrek Plug-in Hybrid
$15
Toyota Prius Plug-In Hybrid (1st Gen 2012-2016)
$15
Toyota Prius Prime (2nd Gen 2016-Present)
$15
Volvo S90 T8 Plug-in Hybrid
$15
​Volvo XC60 T8 Plug-in Hybrid
$15
Volvo XC90 T8 Plug-in Hybrid
$15
Audi Q5e
$37.50
Cadillac CT6 Plug-In Hybrid
$37.50
Chevrolet Spark EV
$37.50
Chevrolet Volt
$37.50
Chrysler Pacifica Minivan Plug-In Hybrid
$37.50
Ford Escape Plug-in Hybrid
$37.50
Honda Clarity Plug-In Hybrid
$37.50
Honda Fit EV
$37.50
Land Rover Range Rover Plug-in Hybrid
$37.50
Land Rover Range Rover Sport Plug-in Hybrid
$37.50
Lincoln Aviator Plug-in Hybrid
$37.50
Smart ED Plug-in Hybrid
$37.50
Toyota RAV4 Prime Plug-in Hybrid
$37.50
Volvo S60 Plug-in Hybrid
$37.50
Volvo V60 Plug-in Hybrid
$37.50
Audi A8 TFSI e
$45
ravAudi e-tron GT
$45
Audi e-tron Q4
$45
Audi e-tron Sportback
$45
BMW i3
$45
BMW iX3
$45
Chevrolet Bolt
$45
Fiat 500e
$45
Fisker eMotion
$45
Fisker Ocean
$45
Ford Focus Electric
$45
Ford Mustang Mach-E
$45
Honda Clarity Electric
$45
Hyundai Ioniq Electric
$45
Hyundai Kona Electric
$45
Jaguar I-PACE Electric
$45
Jeep Wrangler 4xe
$45
Kia Niro Electric
$45
Kia Soul Electric
$45
Mazda MX-30
$45
Mercedes B-Class Electric Drive B250e
$45
Mercedes EQC
$45
Mini Cooper SE
$45
MINI Electric
$45
Nissan Ariya
$45
Nissan Leaf
$45
Polestar 1 and 2
$45
Porsche Taycan
$45
Rivian R1T Truck
$45
Tesla Model S
$45
Tesla Model 3
$45
Tesla Model X
$45
Tesla Model Y
$45
Tesla Roadster
$45
Toyota RAV4 Electric
$45
Volkswagen e-Golf
$45
Volkswagen ID.3
$45
Volkswagen ID.4
$45
Volkswagen ID Crozz
$45
Volvo XC40 Electric
$45
*Pilot Program rates (above) are subject to change with 30-day notice
If you pay for your parking permit via pretax payroll deduction (PRD), you might consider enrolling in PRD for the EV power permit as well. This is not a requirement. TPS also accepts payment by cash, debit/credit card, or a check made payable to UC Regents.
A permit purchased after June 30 is prorated and the appropriate fee charged for the months remaining until June 30 ending in an odd-numbered year.
Permit Returns and Refunds
Annual permits that are not being used must be returned to Parking Services to qualify for a refund base on the unused calendar months in the future. See here for more information about our permit return policy.